Every construction project calls for the right tools. When it comes to home remodels, office organization projects, or interior design, Z-Clips are a useful addition to your DIY toolkit. You can use them to hang wall panels, cabinets or large mirrors in a way that is both strong and aesthetically pleasing.
Today, we'll be going over what Z-Clips are and how they might fit into your next project.
What are Z-Clips?
Aluminum Z-Clips, also known as French cleats, are hardware devices that attach items securely to walls. Z-Clips consist of two parts: one part that bolts to the wall, and the other that attaches to the item you're hanging.
These pieces create "male" and "female" parts that fit together perfectly. Then, when you connect the item's clip to the wall clip, you create a strong connection that can be removed or relocated easily, leaving minimal surface damage.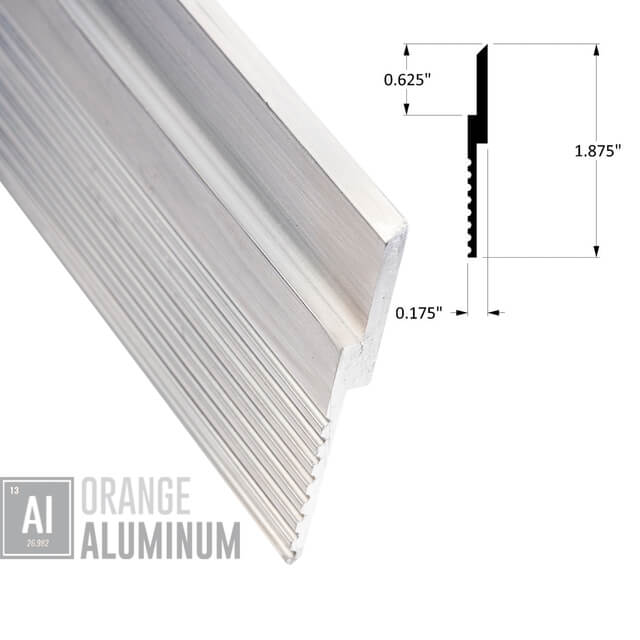 Unlike wires or hanging hooks, Z-Clips are entirely concealed by the object after it's hung, creating a clean look. In addition, they are available in various sizes and strengths to accommodate different item weights.
When shopping for Z-Clips, you may encounter the following terms. Familiarizing yourself with these concepts will enable you to choose the right clip type for your needs.
Offset or Projection: This is the distance between your item and the wall, or how far from the wall your item will hang.
Drop or Lift-Off: How high you have to lift the clip before the rail engages or disengages. If you are hanging an item high on a wall, make sure you have enough ceiling clearance to install and remove your Z-Clips for proper hanging.
How Much Weight Can Z-Clips Hold?
How much weight a Z-clip can hold depends on a few different factors:
What you're mounting
What you're mounting the object to
Fastener strength
What You're Mounting
Z-Clips are available in various strengths, from standard to extra heavy duty. Choose the most suitable strength for the weight of the item in question.
In addition, make sure the item you're mounting has an adequate number of Z-Clips. For heavier items, it's wise to increase the number of clips you use while decreasing the space between them.
What You're Mounting the Object To
When mounting an object to a wall, make sure you're drilling into studs, not just drywall. If you're using a Z-Clip rail, make sure clips are attached to a sufficient number of wall studs for extra support and stability. If you must install over drywall, use toggle bolts or drywall anchors for extra strength.
Fastener Strength
In addition to choosing Z-Clips strong enough to support your item's weight, additional fasteners or screws will increase the load that a Z-Clip can hold.
If a Z-Clip application fails, it probably has more to do with the wall's integrity or the quality of the fasteners than the clip. Z-Clips are remarkably strong; however, screws are more likely to fail faster than Z-Clips will. For permanent installations, applying adhesive to a wall clip before installing will give your item extra staying power.
How are Z-Clips Used?
Z-clips are incredibly versatile and can be used for many applications. They're especially useful for projects when you don't want your hanging system to show. The following are common uses of Z-Clips.
Hanging Artwork and Mirrors
You must take special care hanging large pieces of artwork and especially heavy mirrors to keep them safe from damage incurred by falling from their supports. Whether the item is in an art gallery or your home, make sure you select Z-Clips designed to support your item's weight.
Hanging Wall Panels
When hanging wide wall panels, using a long rail rather than a clip is preferable and provides more stability.
Orange Aluminum carries rail lengths of 72", 144" or a custom size to suit your needs. Get an instant custom quote.
Hanging Shelves and Cabinets
Hanging shelves and cabinets correctly is crucial, as they support more weight than the items themselves. Z-Clips and rails are often used in kitchen renovations to hang cabinets and shelves, as well as for garage storage units.
Exterior Usage
Hanging heavy items outdoors, like shutters or decorative wall panels, carries additional weight (no pun intended). Since outdoor objects can be exposed to elements like wind, rain and snow, you must choose supports that are strong and resistant to degradation. Using durable aluminum Z-clips prevents corrosion and weakening caused by extreme weather and moisture.
Complete Your Next Project With Orange Aluminum
Orange Aluminum is your source for aluminum Z-Clips, custom extrusions and a wide variety of aluminum products. However, there are many different secure wall mounting hardware types to choose from.
If you need advice on what type is best, reach us at sales@orangealuminum.com, or call us at (714) 598-1843 – we love to help!
Or, browse additional topics on our blog and learn more about how you can put aluminum to use in your next construction project.