A store's physical layout and appearance contribute to how your customers feel about their shopping experience and, in turn, how inclined they are to buy – but finding the best way to organize displays and merchandise can be overwhelming.
Slatwall displays are a durable, versatile and low-cost solution to your organization's woes. They're commonly used to hang merchandise in store displays, but there are many ways to get creative with them and make your displays appealing and effective.
In this blog, we'll outline five slatwall retail display ideas that will help kickstart your next store renovation project.
What is Slatwall?
Slatwall is a construction material commonly used to arrange merchandise and display fixtures. It's characterized by horizontal grooves – known as "slats" – that are used in conjunction with hooks and fasteners. Use slatwall to organize products, hang decor or serve as an accent wall.
Slatwall is available in various shapes, sizes and materials, so there are many options to choose from when you're creating your retail display. And, once installed, you can easily rearrange the display whenever you'd like.
Slatwall comes in two different forms: wall panels and freestanding displays. Wall panels require installation, but they're great if you're looking to free up floor space. Freestanding slatwall displays come in a wide variety of shapes and styles, and they're a creative, space-conscious addition to any store.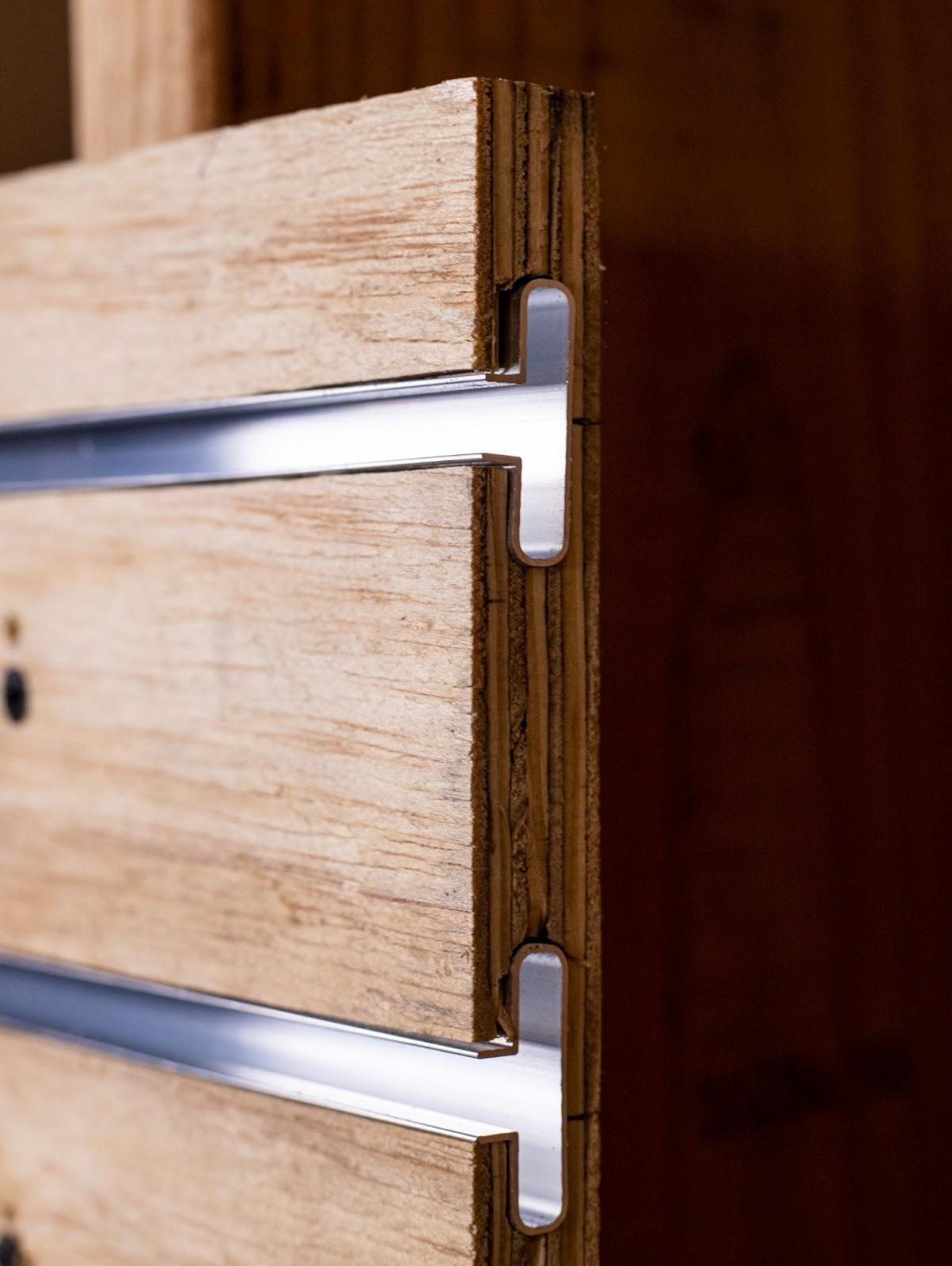 How is Slatwall Typically Used?
To display products on slatwall, all you have to do is slide your hook into the slatwall. Hooks, shelves and other hanging displays are easy to install and can be arranged in several ways.
5 Creative Slatwall Display Ideas
Hooks, shelves and merchandise aren't the only things you can hang from slatwall, and your store's layout refresh doesn't have to break the bank. Getting creative with slat patterns and arranging the items you hang from the wall will make your displays more functional and visually appealing.
Note: Because slatwall has so many placement opportunities, it's important to be conservative about your use of the space to avoid cluttering your wall. Slatwall is designed to maximize your store layout, but it's important to leave ample space between objects to ensure that customers can easily see and find each item.
1. Mix and Match Panels
To give your slat wall some depth, alternate panels between dark and light colors. Whether you paint your panels or buy different colored slats, using multiple colors can be both a helpful organization technique and eye-catching decorative addition.
2. Stagger Items
If you have long strips of slatwall, get creative with your hanging patterns. Whether it's an open, airy display or a tight, structured display, don't be afraid to use your imagination and get creative. The atmosphere of your store will help guide you in the right direction.
3. Combine Shelves and Hooks
Create contrast and depth by using shelves for your products and hooks for decorative elements, or vice versa. This is great if you're looking to break up merchandise displays and add color, signage, plants or other decorative items.
4. Experiment with Anodized and Powder Coated Slatwall Inserts
Aluminum slatwall provides a clean, finished look in any store – but did you know that it comes in multiple finishes? Coatings like anodized and powder-coated slatwall inserts can change the appearance of your display and elevate the look of your fixture.
5. Apply Graphics to the Slatwall
Add images or patterns to slat wall panels for a unique pop of color. Graphics are an excellent solution for a DIY accent wall, to spice up a freestanding display or to promote your products with brand images.
Advantages of Using Slatwall
The advantages of slatwall are many. To summarize, here are the benefits of adding this fixture type to your retail store:
It's versatile. Use the solutions above or get creative with a DIY slatwall project.
Items, shelves and hooks can be quickly and easily rearranged
It maximizes storage and frees up floor space..
Aluminum slatwall prevents panel damage and adds extra security for your hanging items.
It's easy to install. The installation procedure typically only requires a few materials and a few minutes of your time. (See images below to see how slatwall is assembled.)
Create Versatile Slatwall Displays with Orange Aluminum
Ready to get creative with a slatwall display? Connect with Orange Aluminum for your slatwall needs! Our selection of slat wall inserts, panels and edges are ideal for a variety of uses, and our strong, durable aluminum is the perfect base for any slatwall display.
Browse more topics on our blog and learn more about how you can put aluminum to use in your next construction project.